"Lee captures lightning in a bottle!" - Skope Magazine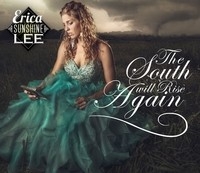 This the 5th studio release from Lee "The South Will Rise Again" by Georgia based Erica Sunshine Lee  is sure to be remembered as one of the classic female pop CD's in recent memory. Its pure femme fatale magic the way it used to be, full of cautionary tales, passion and of course love's mystery with a southern twang. So who is Lee anyway? Her music is hard to put in a generalized genre, but she incorporates elements of indie, rock, country, soul, folk, and even pop. Lee's positive attitude along with her good time sultry sound, good pure look, conscious lyrics and high-energy stage presence radiate pure soul! When one hears Lee for the first time, it will take the listener from a culture of despair and deliver them to a culture of hope! Her music, along with her sweet and compassionate smile, combined with her angelic voice, will remind you of good times while taking you to another dimension of bliss & harmony. In my own words she's a singer/songwriter who draws on life's experiences from both the interior and exterior vantage point. Her musical narrative and impassioned lyrics deliver sincere and genuine vocal performances. From the first seconds of Track 1"Girls Night Out" to the final moments of "How Bout Them Dawgs" this CD hits on all cylinders with a powerful musicallandscape full of power and intrigue. One thing that impressed me the most about this album/band is the wide range of emotions Lee covers. There's also a Bible Belt ambience that really sucks in the listener reminiscent of classic Lady Antebellum, Sheryl Crow, Shania Twain,Faith Hill, Le Ann Rimes and Carrie Underwood.
URL: http://www.ericasunshinelee.com/
Lee is backed up by some solid players and production folk giving her latest CD the highest potential for success. Despite this Lee does not have a vocal ability that will stop you in your tracks, though she does bring many other impressive skill sets to the table. This is her 5th release and she strikes me as a very hard working, consistent artist worthy of attention and praise. She is pre and genuine and does not look like a bit tainted by the grind of the business. Need I say more? The CD is professional grade any way you look at it. The instrumentation and tones give you that genuine feel of good music and writing from a generation ago is still alive. Lee has a strong visual and her voice sounds as if she was marinated in Southern charm. She also plays guitar and at times will remind you of Cheryl Crow. All members in her band are solid musically. Kudos goes out to the amazing songwriting – all songs are solid.
I always said you can sell what you don't truly believe, Here Lee manages to capture lighting in a bottle that will ring true not only for older more experienced listeners but new ones as well. My favorite tracks: "Train Wreck", Georgia for This", All I Can Give" and the title track. "The South Will Rise Again" wraps up a well rounded 13 track set by Erica Sunshine Lee that delivers an interesting cross section of classic country-pop and female singer/songwriter. Despite this it is accessible to modern day listeners as well. How is this possible? Only an experienced artist armed with an honest, genuine, sincere approach can pull it off – that artist is Erica Sunshine Lee.
Purchase Link: http://www.amazon.com/s?_encoding=UTF8&field-
Score – 8/10 Stars
Posted by Andrew Scarborough edited by Markus Druery Comments: jannezawa@gmail.coml